Frequently Asked Questions
What is Lace Wigs usually made of?
100% Indian Remy and Chinese Remy hair lace wigs with recession for natural hair line. Petite, average to large sized caps. French or Swiss full lace or lace front with lace, thin skin at the rear or stretch lace back for flexibility and adjustable sizing. The wigs are made from Cuticle hair, individually hand-tied for tangle free hair styling if maintained correctly.
Indian Remy and Chinese Remy hair

French or Swiss Lace

All lace or Stretch lace and or/Thin Skin at the rear

Hand Tied

Free Style hair can be parted anywhere and worn in low or high pony tail dependent on cap constructions.
What is a lace Front?
A lace front is a wig that's hairline is constucted of lace material. This material is made out of French Lace or Swiss Lace and is virtually undetectable to the naked eye when placed against the skin. The hair is knotted into the lace and appears to grow from the scalp offering an natural appearence. Only a lace front wig can be trusted to maintain the illusion of growing hair and it's the prefferred choice of celebriteis, actors, and people in media.
French Lace
French lace is a strong material used at the front edge of a hairpiece in combination with bleached knots to give and extremely undetectable look. The knots are not hidden by lace, but using lighter knots creates the illusion of growing hair. French lace is less fragile than Swiss lace and with care could last a long time.
Swiss Lace
Swiss Lace is more fragile than French lace but strong enough if handled carefully. It is the most undetectable but also very delicate. Swiss lace needs to be handed with care and is not recommended for first time users to lace front wigs.
Why buy Remy Hair?
Remy Hair is truly superior human hair collected directly by the donor. It is cut from one persons head & sewn in the same direction hair naturally grows. The Cuticle is just like nature intended it to be. Texture is silky soft with subtle waves. Cuticle hair is created by careful processing which leaces the cuticle layer of the hair in place.
Hair Color
The color chart will help guide you on the right color for your wig. If you are interested in a combination of coloring please contact me before you place an order.

Hair Density
Choose what density you would like your new Lace Front Wig. Density is hard to gauge from photos and a lot depends on your hair length, how curly it is, how dark it is, the lighting, etc. The pictures below are of a factory density book (no bleached knots here!) which contains industry standard densities of 50%, 80%, 100%, 130%, 150% and 180%. Looking at our photos page you will see how various densities look in various colors and lengths on our clients.
This is 50% density, or "extra-light"
This is a great density on a lace base with bleached knots.

This is 80% or "light"
Like real hair, it shows a fair amount of scalp but is also a good full young healthy head of hair.

This is 100% or "light-to medium"
Normal density that offers light airy part, Full head of healthy hair.

This is 130% or "medium"
This is only called medium because these names are derived from the ladies wig industry. 130% is maybe okay for a woman who wants her hair to look full and volumnious.

This is 150% or "medium-heavy"
Nice density for a ladies wig, very full and thick, nice density for yaki textures.

This is 180% or "heavy"
The 180% density is a common density for wig industry, many women like hair to look very full, and youthful, the 180% is nice density for woman.

Hair Curl
Tight Afro 0.2cm

Afro 0.4cm

Loose Afro 0.6cm

Tightest Curl 0.8cm

Tight Curl 1.0cm

Very Curly 1.2cm

Curly 1.5cm

Loose Curl 1.8cm

Light Curl 2.2cm

Very Wavy 2.5cm

Wavy 3.0cm

Light Wave 3.2cm

Body Wave 3.8cm

Straight 5cm
Hair Styling
All custom lace front wigs come shaped to the style of your chosen photograph. Your stylist should refine the cut of the lace front wig to frame your face, something that cannot be done remotely as ever face shape differs.
How is lace front cap applied?
The lace front cap is applied with either special adhesive that is safe for human skin, or tape. The adhesive disappears into the lace front and creates the illusion of hair growing directly out of the scalp.
What is Monofilament?
Monofilament material is a thin gauze-like, nearly transparent material which is much more
comfortable to the touch. Hair strands are attached by hand-knotting them to this material,
one strand at a time, hence the term "mono-filament". This allows the strands to swivel freely
on base and so the monofilament wig is more easily styled. This weaving technique also
creates ventilation. Your monofilament wig will breathe while worn, and this prevents heat
and moisture buildup. The monofilament fabric itself is nearly transparent, and so takes on
the approximate color of your own natural scalp, whatever shade that is. This amazing
"chameleon" effect is another plus to the monofilament wig design. It has been said that a
monofilament part is the most natural looking part in the wig industry, because it bares the
natural scalp color of the wearer.
What is Monofilament Wigs?
Mono wigs are tied by hand. Mono wigs are based on a fine mesh of monofilament material and are very light and ideal for hot climates. The mono mesh is so thin it allows the colour of the scalp to shine through, and it also sits extremely flat.
Mono Parting wigs use the mono only in the parting area, which keeps the cost down. This gives a fringless style and a completely natural look.
Mono Top wigs have the top and crown only in mono, ideal for styles with less bulk. It is also a very natural look.
Fully Hand Tied have full mono and have the best attributes of the first two styles, but are also more expensive.
How to Measure my Head?
| | |
| --- | --- |
| | 1. Circumfrence: |
| | 2.From forehead to nape of neck: |
| | 3. Ear to ear across front hairline |
| | 4. Ear to ear over top of head |
| | 5. Temple to temple |
| | 6. Nape of neck |
How to Order A Lace Wig? ------ Download the Order Form Here! ------Can't Open it? Click here!
How to Order Men's Toupee?------Download the Order From Here! ------Can't Open it? Click here!
What is a weft?
A weft looks like a little curtain of hair attached together at the top and free flowing at the bottom. Wefts can be made by machine, but the best wefts are handmade.
How Is the Weft Applied?
Wefts are attached to your head by sewing them to a tiny braid made out of your own hair. The track (known to hairdressers as a corn-row) runs horizontally around the back of your head. The tracks are done in the middle of your scalp underneath your hairline so you can't see them.
The crown area of your own hair covers the top track making the extensions seem invisible. The number and size of tracks matches the number and size of wefts. The wefts and tracks ideally should be made in different sizes in order to match exactly the way your hair would look if you had grown it that way yourself.
Depending upon how much hair you need depends on how many tracks you have. For example: If I had hair to my chin and I wanted hair to my bra line (about 18" long) I might need 5 or 6 tracks/wefts depending upon my current haircut. If I had hair to my shoulders that was thin and stringy and I wanted it thicker and more luscious but the same length I might need 2 or 3 (or more) tracks/wefts.
Once the tracks are done, the wefts are sewn to them and then your own crown area hair is blended with and combed over the extensions. From now on you have to think of the extensions as YOUR HAIR.
How Do I Look After Them?
You look after Hair Extensions the same as you would do long hair that you grew yourself. If you have never been able to grow your hair long before it is probably because you are killing it just as quickly as it grows. Here's a few tips:
Wash, condition and MOISTURIZE your hair every 2 - 3 days. The extensions do not receive your natural scalp oils and so need to have moisture added every wash. If you don't moisturize your hair extensions they will become brittle and break easily leading to split and ratty ends.
Treat them with respect. They will not grow back if you yank at them with a brush, burn them with the blow dryer, kill them with chemicals. Be nice to them - they cost a lot of money so make sure you get your money's worth.
Always brush out all knots before you wash your hair, swim, or sleep. Start at the bottom and work your way up slowly using a paddle brush.
Make sure you wash in between the braids to keep your scalp clean and free of bacteria.
Can I wear my hair up?
Sure, the Extensions should not be applied any lower than the base of your scalp (about even with the middle of your ears) and so your hair under this point covers the extensions while you wear it in pigtails, ponytails, french twists, french braids etc.
How to Apply Easy Ring hair? ----Click Here!
What is Skin Weft Extension?
Skin Weft Extensions is completely natural looking and undetectable. Even if someone were to run their fingers through your hair, it is unlikely that they would really feel or see the addition. The hair looks like it's growing from your scalp. The mono skin weft extension is hand knotted hair attached to very thin mono-skin base. It is applied along your hair line next to your skin. It is seamless, without bumps, braids, sewing, velcro, beads, metal tubes, glue, clips, nor chemicals and is completely invisible. Hair is reusable. It is also very easy and fast to apply. Can be applied with skin weft tape, purchased separately.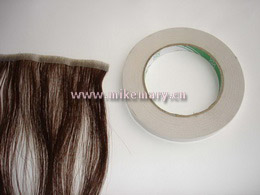 What about Hair Knotting Techniques?
Different hair knotting techniques are used to knot hair into the base, providing different performance and results. The quality of the wigmakers workmanship will have a great impact on the finished look.
Single hair, single knots are considered the best method of knotting producing a tiny knot for each individual hand-tied hair. Two or three individual hairs can be single knotted at one time speeding up the process to the detrimental of creating a larger knot with less aesthetically pleasing finish.
Double knots literally involve knotting hair twice to produce a double knot which provides a stronger, more robust knot. The resultant knots are however even more visible under close inspection. This is a particular problem when trying to create a natural hairline and for this reason most front hair lines should be single hair, single knotted on a flesh tone lace material.
The term hair injection refers to the method of inserting a series of hairs through a layer of polyurethane before coating the underside of the base with a single layer of liquid form polyurethane. Upon setting (or curing) the inserted hairs remain trapped between the two transparent layers.
Hair injection is a relatively new method of hair attachment, becoming increasingly popular due to its natural appearance, free of knots.